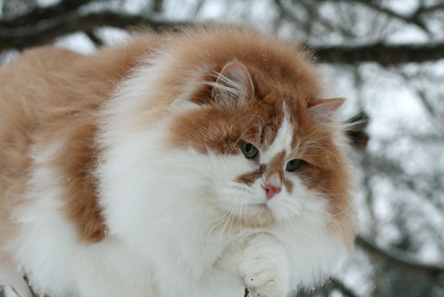 SC FIN* Amurin Hiskia, DVM

Parents/vanhemmat:Dam: GIC FIN* Amurin Avila
Sire: GIC FIN* Amurin Esra
SIB d 03 23 punatiikeri kastroitu kolli/red mackerel white siberian cat neutered male
DOB: 13.07. 2008
Kasvattajat/breeders: Tessa ja Mira Rissanen
Omistaja: Suvi Kovanen, Konnevesi

HCM neg 20.5.2009, HCM neg 17.2.2012, HCM neg 12.12.13
Felv, FIV neg, veriryhmä A/ bloodgroup A
Hiskian sukutaulu / Hiskia's pedigree
Näyttelytuloksia/ Show results

Amante's Q-pentueen isä/ Father of Q-litter of Amante's

Hiskia on rohkea, leikkisä ja valloittava kolli. / Hiskia is bold, playful and charming male.

SC Amurin Hiskia 4 years 8 months 15.3.2013
SC Amurin Hiskia 3,5 years 3.1.2013
Obadja Mooses Hiskia 14.11.2010
Hiskia and Leevi -video 15.2. 2010

Esra and Hiskia BIS in Vantaa 25.4.2009

Hiskia in a gray winter day 8 months old 4.3.2009

The cat show in Lahti 24.1.2009

The winner show in Järvenpää 14.12.2008




IC Amurin Ruufus BIS and GIC Amurin HIskia NOM
in Riga Cat Show 2.12.2012